Our New 2012 Catalogue
Is Now Available
**Order Yours Today**
.LED
.NEW Range
.Improved Layout
.Packed With Information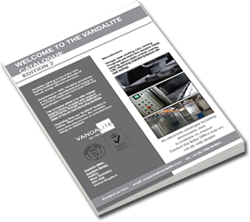 Vandalite Lighting specialise in vandal resistant, heavy duty lighting fixtures & utility type luminaries for a wide variety of installations, Custodial, Healthcare, Education, Industrial, Exterior & LED.
Utilizing the latest energy efficient high frequency linear T5, compact fluorescent lighting (CFL), SON & Metal Halide lamps & introducing our new LED range, these fixtures provide an excellent high quality, cost effective secure lighting solution for all your current lighting requirements.
You can now order our catalogue in electronic version please contact us for your copy.

Vandalite Lighting was formed in 1995 with a mission statement of designing & manufacturing high quality vandal resistant lighting products at reasonable cost, UK manufactured, with service second to none.
Over the 16 years we have specialised in the supply of HMP Prison Projects & Secure Healthcare Units, Police Stations & Magistrates Courts both here in the UK & overseas (Europe, Middle East & Asia) a comprehensive list is available on request, with many other high profile projects completed.